Part Number:
ETI0001-1450
Rugged Mil Spec® 2000 VA Rackmount
Ultra Compact Tactical Integrated UPS
and Intelligent Power Distribution Unit Combination
US Navy Q-70Tactical Open Systems E-CDWS Standard Rugged Mil Spec 2000 VA Rack Mount Rugged Power™ Isolated UPS
Ultra Compact 12" Depth, PFC Input, Intelligent PDU
Remote Shutdown and Auxiliary DC Output


ETI0001-1450 Rugged Mil Spec UPS and PDU Standard Front
Panel Layout with 2U Battery Module

ETI0001-1450 Rugged Mil Spec UPS and PDU Standard Rear
Panel Layout with 2U Battery Module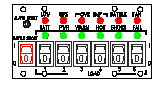 N5 Standard RemotePanel OptionalN5 Remote Panel w/ EPO
The field proven Rugged Systems™ UPS line is ideally suited for military,industrial, computer and telecommunications applications requiring high reliability, rugged construction, compact size and light weight design.These units are equally suited for use in shipboard, airborne, vehicular, fielddeployed or fixed locations with controlled or uncontrolled environments. The
ETI0001-1450 is specifically designedas an ultra compact unit to mountin the US Navy Q-70 E-CDWS racks. The
ETI0001-1450 does not require a separate PDU since the PDUfunctions are already integrated into the UPS module. This saves rack space,cabling and expense while improving overall reliability.
The heavy-duty chassis occupies only4U (7") for the electronics module and 2U (3.5") for the battery module ofrack space by an ultra shallow 12" deep. Therounded metal corners and rugged handles, both front and rear, aid in safehandling. Internally, all major components are well secured and electricallyinsulated to prevent damage due to shock and vibration.
The internal shieldedinput transformer provides galvanic isolation with provisions for domestic (115 VAC, CONUS) and optional international (230 VAC, OCONUS) inputvoltages. Theunit also operates as a frequency converter, taking 46-70 hertz input and converting it to 60 hertz power. Special EMI/RFI filters and input power factor correction minimize both input current and harmonics. The inputcircuit breaker and the galvanic isolation transformerall provide a double pole isolated source for all installations including shipboard systems oroverseas locations where phase references and grounding are not consistent.
The LED arrays keep the operator informed as to the unit's status including load and battery levels. The high intensity audible alarm canbe heard in high noise environments.All controls and protective devices are brought to front and rear panels with critical switches having finger guards. Further, all front panel devices are recessed to preventdamage or accidental operation. The internal intelligent PDU allows control ofthe individual output circuits incorporating thermal and interlock interfacesfor additional control and safety, plus Battleshort override. The display andcontrol panel can be mounted remotely in the rack at eye level, or on the keyboard console,or on the unit front panel with only a logic level cable connection.
The rear panel provides locking connectors for the input and output power with various optional configurations available. The removable and washable intake air filters and high capacity stainless steel ballbearing fan provide added protection in both controlled and hostile environments. Thisversion draws air through the rear and exhausts out the front vents. The externalbattery connector allows the safe and easy addition of the standard or extra battery moduleswithout having to shut the unit down. The batteries are maintenance free with immobilized electrolyte and are constructed of flame retardant materials. For more information, see the Battery Technology section. The Status connectors provide both a contact andasynchronous serial interface with optional computersoftware providing loss of AC and low battery status as well as remote shut down capability. Besides the standard
ETI0001-N5Series features, the "
ETI0001-1450" also has a remote shutdown interface andan auxiliary DC output. The PDU Remote Control connector provides aninterface to standard or optional remote display/control panels.
See the Power Distribution Units section for a listing of stand alone PDUs. See the N3 Series UPS section for UPS withoutthe integrated PDU and remote control.
Overall, the Rugged Power line is uniquely qualified for critical shipboard, vehicle, airborne or land based systems combining advanced modular design features with highly reliable construction.
AC OUTPUT
Output voltage:
120 VAC true sinewave standard, others optional
Output rating: UPS
2000 VA standard in 4U x 12" chassis
0.65 to 0.75 pf standard, optional configurations to 24,000 VA
Non-linear load capacity:
Up to 100% non-linear load capability w/o derating
Output voltage regulation: UPS
± 3.0% static regulation of nominal
± 4.0% dynamic (0 to 50% load step)
Overload surge capacity:
110% for 10 minutes; 125% for 30 seconds
Harmonic distortion:
Less than 5.0% into 100% non-linear load
Output frequency: UPS
60 or 50 Hz ± 2.5% synchronized to utility
60 or 50 Hz ± 1.0% w/ utility not available
400 or 1000 Hz output available as an option
Operational status
Status, load and battery level LEDs, w/contacts
Adjustable level,+90 dB audible alarm w/on/off
AC INPUT
Input voltage selection:
Nominal 115 VAC, optional autoranging input of 85-270 VAC
Input voltage tolerance: UPS
85-155 VAC @ full load without using battery, to 70 VAC @ 75% load
Input frequency:
From 46 Hz to 70 Hz standard, optional to 440 Hz
Input power factor:
Better than 99% typically
Input/output isolation:
2000 VA, up to 120 dB common mode, <5 mA leakage
Input transient suppression:
Complies with IEEE 587 and UL 1449
Input control/protection:
Guarded 3 pole input breaker w/ UPS fuse
Input power connection:
AMP MCPC 7-pin Type XII threaded locking
EXTERNAL BATTERY
Battery type:
Maintenance free immobilized electrolyte,
Flame retardant materials (Oxygen Index 28+)
Battery life:
Rated for continuous service life of 5 years
DC protection:
Front panel mounted fuse
Battery expansion:
Up to 24 hours w/ Battery Expansion Modules
DISTRIBUTION PANEL
Output circuits:
Six controlled outputs via solidstate relays
Output control:
Local/remote control panel w/rocker switches
Thermal and remote interlock ON/OFF control
Output receptacles:
IEC-320R w/cord restraints
MECHANICAL
Dimensions ( H x D x W ):
UPS
2U Battery Module
7.0 (4U) x 12.5 x 19.0 in (178 x 318 x 483 mm)
3.5 (2U) x 12.5 x 19.0 in (89 x 318 x 483 mm)
Rack Slide Mount Patterns:
Jonathan, General Devices patterns standard, others optional
Alternate Mounting Options:
Table, Wall, Floor, Portable, Horizontal/Vertical
Shipping weight:
UPS
2U Battery Module
88 lb. (40 kg) with lift handles front
66 lb. (30 kg) with lift handles front and rear
Audible noise:
Less than 47 dB @ 5.0 ft., ANSI "A" scale
Cooling type:
High capacity, positive pressure, forced air
Cooling air direction:
Rear intake, exhaust to front
Air intake filter:
Washable filter media, various porosities
ENVIRONMENTAL
Storage temperature:
-40° to 158° F ambient (-40° to 70° C) with fully charged batteries
Operating temperature:
32° to 113° F ambient (0° to 45° C ), lower/ higher optional
Operating humidity:
0 to 95% relative humidity (non-condensing)
Storage elevation:
Up to 40,000 ft (12,192 m)
Operating elevation:
Up to 15,000 ft (4,572 m), higher optionally
STANDARDS
United States:
Meets UL-1778 standard for UPS equipment,
MIL STDs 167-1, 454, 810, 901D, 1399-300A & 2000
Canada:
CSA C22.2 No. 107 UPS safety requirements
EMI Protection:
EMI/RFI FCC Part 15, Class A; EN55022; MIL STD 461
OPTIONAL ACCESSORIES
Autoranging International Input, Cold Start, Alternate I/O Configurations, Dual Source Input, Battery Expansion, Batteryless Operation, Battery Charger/Conditioner, Power Distribution Units, Software Interface, Asynchronous serial COM port, 10BaseT Ethernet SNMP/HTTP port, Transport Cases, Slides and Mounting Kits